2017
Pitching in to pick up trash and prevent soil erosion protecting an arroyo with Watershed Santa Fe. Arroyos feed directly in the Santa Fe River and are an integral part of the New Mexico surface water system. These often neglected drainages are typically filled with trash and plagued by erosion issues, making them potentially dangerous in heavy storms. Our small, but determined team of five volunteers worked to clear an arroyo as part of Watershed Santa Fe's rescue program.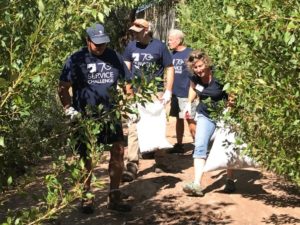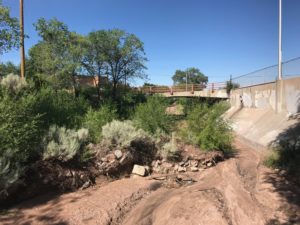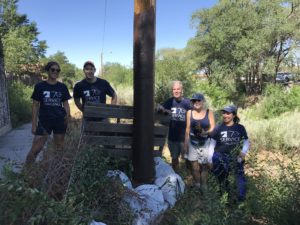 2016
Indian Market Fundraiser: Our main fundraiser, selling parking spaces for the Annual Indian Market, netted us an all-time high of $1,880 this year! Almost every member of the office and various family members helped to cover shifts at the parking lot all day on Saturday and Sunday. Special thanks to Brad Berge, Michael Campbell, Bill Carr, and Mark Sheridan for facilitating our use of JP Partners' parking lot. We used the money raised to support several projects sponsored by the office including: CASA (Court Appointed Special Advocates), St. Elizabeth's Shelter, American Cancer Society, and Girard's House – a grief center for children.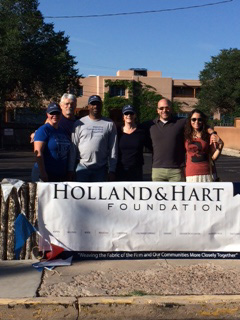 Making Strides Against Breast Cancer 5-Mile Walk: This year, the American Cancer Society's annual Making Strides Against Breast Cancer 5-Mile Walk was quite personal for our office. John Anderson's wife, Jackie, endured several rounds of chemo and is an amazing SURVIVOR. In addition to the generous monetary donations by everyone in the office, eight members of the office walked alongside Jackie in support of Jackie and all other survivors. With $1535 in donations, we placed 4th out of 59 teams!
Our small, but dedicated group of walkers included Charlie Baser, Lisa Ortiz, Little West, John Anderson his wife Jackie Davis and daughter Juliet, and Deb Guinn and Tony Tupler.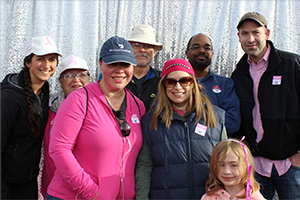 2015
Mother Tongue Project: Mother Tongue Project, a program to actively engage teen parents with learning by providing language and literacy resources, now offers an English class designed for teen moms at Capital High School in Santa Fe. Nine volunteers from our office applied book covers to preserve books for the growing library inventory.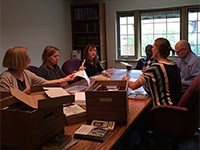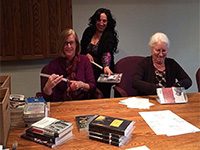 Fundraising: Our main fundraiser, selling parking spaces for the Annual Indian Market, net us a whopping $1500 this year! We used this money to support several projects we were involved with including: CASA (Court Appointed Special Advocates), Big Brothers/Big Sisters, American Cancer Society, Mother Tongue Project, Carlos Gilbert Elementary School Halloween Carnival and the Santa Fe Empty Stocking Fund. The participation level at all events this year was phenomenal!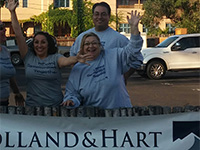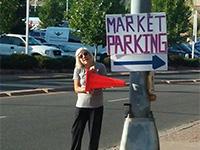 Halloween Carnival: The Carlos Gilbert Elementary School Annual Halloween Carnival is this school's major fundraiser and has been a beloved tradition in Santa Fe for many years. We chose to contribute to this event because Adam Rankin's children, Theo and Sylvia, attend the school. The school's annual goal is to raise money to pay for extracurricular programs, educational activities and supplies, after school clubs, field trips and other programs not otherwise available (e.g., NDI, SF Performing Arts, Wise Fool, etc.). The event is popular not only with those attending the school, but for the entire City of Santa Fe.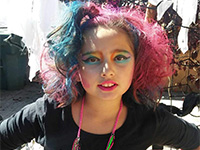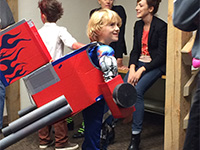 Cancer Awareness Walk: We participated in our first American Cancer Society's 5-Mile Cancer Awareness Walk and we had a blast. We came in second place out of 60 teams! Our initial goal of $500 was eclipsed with donations amounting to $2,625 for this worthy cause.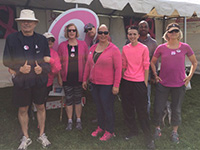 Food Depot: Each month, the Food Depot supplies food to people in need through 120 partner agencies in nine Northern New Mexico counties, including homeless programs, youth programs, group homes, senior centers, day care centers, domestic violence shelters and more. As part of the Holland & Hart Foundation annual firm-wide food drive, the Santa Fe office committee of the Holland & Hart Foundation donated $670 and more than 40 cans of food to the Food Depot.