2016
Friday Food Bags: The JH Friday Food bag program continued to expand in 2016, delivering 12-17 bags per week 44 weeks of the year. This year, more than 680 bags of much-needed fresh produce and non-perishable food were delivered to at-risk families of local elementary school children.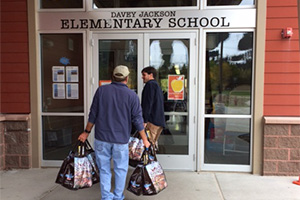 Food Bags for Students: In September 2015, the office began the JH Friday Food Bag project. The office partnered with Teton County School District #1 and Hole Food Rescue to deliver bags of nutritional food – fresh produce and non-perishable food – every Friday during the school-year to students who are most at-risk for hunger over the weekend. The office orders non-perishable food and Hole Food Rescue delivers fresh fruits, vegetables, and grains from to the office every Thursday afternoon. All members of the office help on a rotating schedule to assemble the grocery bags and deliver them to the schools on Friday morning. The program started with 5 bags per week at one local elementary school and then doubled to 10 bags per week in January 2016. In the spring, the program expanded to 15 bags per week and began supporting families at a second school. With generous funding from a local philanthropist, the Friday Food Bag project supplied much-needed grocery bags to 15 families over the summer months and plans to expand to 20 bags per week in 2016-2017 school year.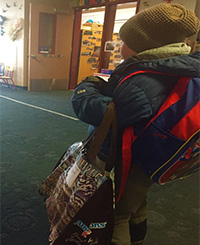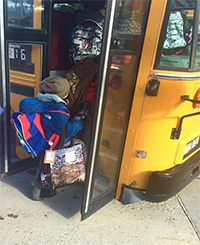 2014
The Santa Claus Fund:The entire Jackson office participated in serving as elves for 20 children through the Santa Fund, a nonprofit organization which provides Christmas presents for underprivileged children in Teton County, Wyoming. The fund gives each "elf" approximately $140 to spend per child. The elves then donate their time and energy to shopping for presents, wrapping gifts, and dropping the packages off for the parents to pick-up the week before Christmas.
Cooking for Community Safety: The Jackson office and many family members gathered on the evening of Nov. 11, 2014, to cook meals and freeze them for the local domestic violence shelter, Community Safety Network. After making grocery lists, recipes and grocery shopping, 100 percent of the Jackson office participated in chopping, slicing, dicing, grating and cooking the delicious home-made meals. The Holland & Hart children had fun decorating Christmas cookies to share with the shelter.
The Community Safety Network provides support, advocacy, shelter, and assistance to those affected by domestic violence, sexual assault and stalking. According to Teton County law enforcement, these crimes are considered the most underreported and disparaging crimes in our community. With donations and volunteers from throughout the Jackson community, the Community Safety Network serves more than 500 clients and their children with shelter and support in addition to reaching thousands of teens and adults with education and outreach programming.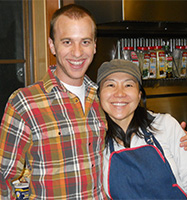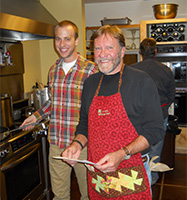 Additional Projects:
Annual Firm-wide Food Drive
Habitat for Humanity Build Day
Lee National Denim Day
Operation Back to School
Stern Family Summer Project