Holland & Hart attorneys and staff members believe in giving back to the community, not just through financial contributions, but also through contributing time and effort. While other law firms have established grant-making foundations, only a handful focus principally on volunteerism and building community.
A 501(c)(3) organization established in 1998 by Sam Guyton, a retired partner, and his wife Jean, the Foundation carries on the firm's longstanding tradition of community service. From conducting clothing, food, and toy drives for foster children, battered women, and Haitian orphans to visiting and delivering meals to the home-bound to painting and repairing the homes of low income elderly citizens, we offer our help to those in need.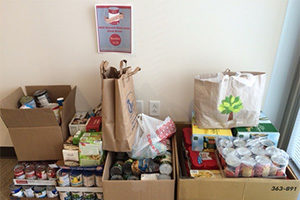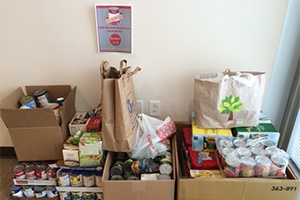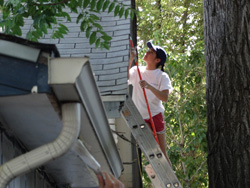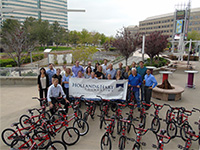 The Holland & Hart Foundation reaches and supports a multitude of needy organizations across the country. Here are a few of the organizations touched by our volunteers:
Adopt-A-Student Christmas Assistance Program
American Cancer Society
American Red Cross
Animal Adoption Center
Autism Humane Society
Best Friends Animal Society
Big Brothers Big Sisters
Boise Zoo
Boulder Valley Elementary Schools
Boys and Girls Club of Utah County
Broadwater Elementary
Brothers Redevelopment, Inc.
Carlos Gilbert Elementary
CASA (Court Appointed Special Advocates) and the Cheyenne Day of Giving
Children of Mine Youth Center, Inc.
Christmas Family Adoption Foundation
Clothes to Kids
Communities in Schools
Constitutional Rights Foundation Chicago (CRFC)
Crayons to Calculators
Family Tree Center
Fernley Adult Softball Association
First Tech Challenge
Food For Thought
Food Pantry in Worland, Wyoming
Geography of Hope Foundation
H&H Foundation Holiday Project
Hole Food Rescue
Humane Society of Utah (HSU)

I Have a Dream Foundation
Idaho Food Bank
Jackson Hole Children's Museum
Knowledge, Creativity, Caring, Development, Dedication (KCCDD)
Las Vegas Rescue Mission
Leukemia Research Foundation
Lift Up
Mother Tongue Project
National MS Society
Nevada Department of Veterans Services
Now I Lay Me Down To Sleep
Reading Rocks
Renaissance Academy Charter School
Ronald McDonald House
Santa Fe Empty Stocking Fund
St. Joseph's Catholic Church
Stride Learning Center
The Santa Claus Fund
The Shade Tree
The United Way
United Way Day of Caring, Salt Lake City
This is the Place Heritage Park
Trinity Church Soup Kitchen
United Way
Utah Food Bank
Utah Foster Care
Utah Ulster Project
Washoe County School District Book Drive
Wish for Wheels
Women's and Children's Alliance
To learn more about the impact of the Holland & Hart Foundation, see our 2016 Annual Report.