2017
Mulching trees and applying playground safety surfacing to spruce up Sunset Park. Enduring temperatures that spiked to 102 degrees while toiling in the sun, a team of 35 office members, family, and friends spent the morning helping Boise Parks and Recreation with park refurbishment projects. Undaunted by the enormous piles of mulch and surfacing waiting for us, our group dug deep and pushed through to spread 100+ yards of resurfacing material around the entire playground area and laid mulch around every tree in the park. We were proud to be described by one of the park officials as "over achievers."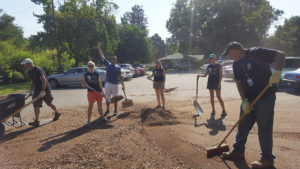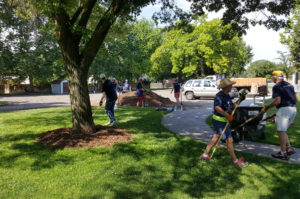 Ronald McDonald House: Our Boise team shopped, prepped, and cooked dinner for 20 who are staying at the Idaho Ronald McDonald House while their children were under care at St. Luke's Hospital. The team prepared a sandwich bar (BLTs, Tuna Salad, Chicken Salad) accompanied by fresh fruit with 'best dip ever', deviled eggs, chips, and finished off with cake for dessert.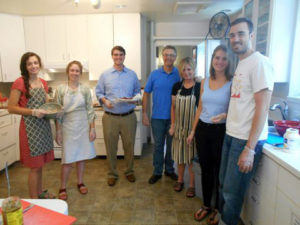 2016
Ronald McDonald House: Ronald McDonald House provides families who live outside Boise with a place to stay, at no or little cost, while their child is receiving medical treatment. Volunteers help supply home cooked meals for families during their stay. In February, five members of the office helped cook a delicious meal for 15. Colleen, Sue, and Katherine handled the shopping in advance so the rest of the group work could devote their time to cooking, baking, and laughing.
The Boise office raised funds to purchase food for the dinner by selling raffle tickets to win a "Beer Vault." Members of the firm donated a variety of beer from Trappist to local crafts.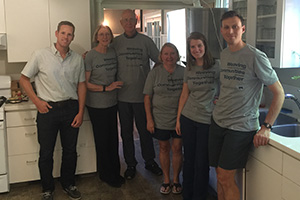 Sawtooth Relay Race: For the 14th year, members of the Boise office participated in this 62-mile relay run that raises funds for Racing Unlimited, Inc., a non-profit that funds pilot research projects at the University of Kansas Medical Center Kidney Institute seeking treatments and a cure for polycystic kidney disease. This year's team, "Holland & Hart Attack" (aka gluttons for punishment) included Lauren Prew, Chris McCurdy, Alex Grande, Brett Ruff, and Kirk Cheney.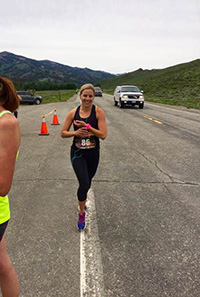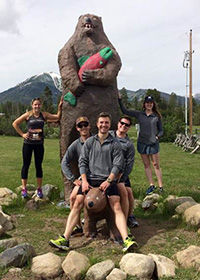 Idaho Food Bank: Once again, a dedicated group of twelve volunteers donned the required hair (and beard) nets to spend a few hours at the Idaho Food Bank warehouse helping to sort and bag over 3,000 pounds of peaches and plums for delivery to needy families in the area.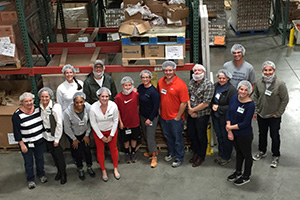 2015
H&H Foundation Holiday Project: The Boise office adopted one family from the WCA and two families from Borah High School for the H&H Foundation Holiday Project. Our group assembled gift tags, took tags from the holiday tree, purchased items or contributed funds to help purchase gifts, shopped, wrapped, and delivered. Our three adopted families were able to benefit from our office's giving spirit.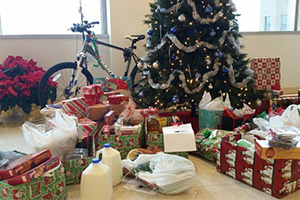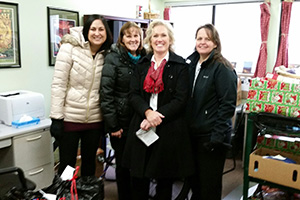 Additional Projects:
American Lung Association – Fight for Air Climb
Habitat for Humanity
Holland & Hart Foundation raffle and auction
Juvenile Diabetes Research Foundation
Movies for a Cause