2017
An afternoon at the Aspen Animal Shelter interacting, playing, and exercising dogs, cats, and birds. The Aspen Animal Shelter is a "no-kill" shelter that provides sanctuary for animals until owners can be found. Six members of the Aspen office helped talk to parakeets, parrots, and Sugar – the white cockatoo and played with cats and dogs whose owners had neglected or abandoned them; notably Honey the 2-month old hound.  We walked with a family of dogs – Max (the dad), Winston, and Lasso (the brothers) – who were nervous newcomers to the shelter and had not yet been outside.  We're intent on returning soon to see how everyone's doing!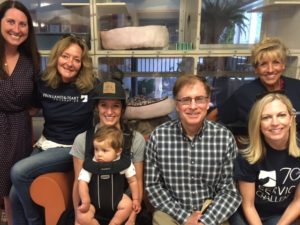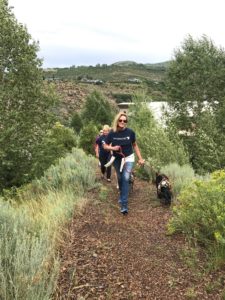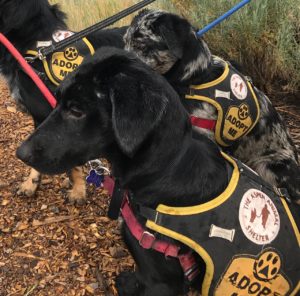 2016
Rotary Club Fundraising: The Rotary Club of Aspen's Annual Ducky Derby Stickering Party is an all-hands-on-deck community event to put stickers on the bottom of 30,000 ducks for the Annual Ducky Derby river race that raises substantial sums for local non-profits. Over the past 19 years, Rotary has raised well over $2,000,000 for the benefit of local youth, health and human services. On a warm August afternoon, seven members of the Aspen office joined the who's who of Aspen area do-gooders, Rotarians, and even a handful of existing Holland & Hart clients, to get all the ducks stuck.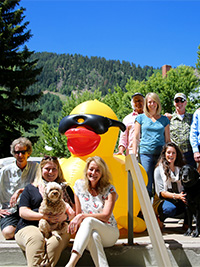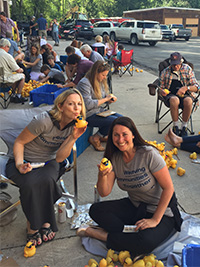 2015
Annual Firm-wide Food Drive: The Aspen office collected food and cash donations to benefit LIFT-UP, an organization that provides essential humanitarian and food-based assistance in Western Colorado communities. LIFT-UP received the equivalent of 741 pounds of food to be used for 2015 holiday baskets and stock food pantries in Aspen, Basalt, Carbondale, Glenwood Springs, New Castle, Rifle, and Parachute, Colorado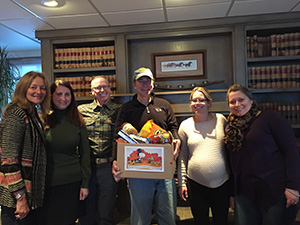 Soldiers' Angels: Soldiers' Angels is a volunteer-led 501(c)(3) nonprofit providing aid and comfort to the men and women of the United States Army, Marines, Navy, Air Force, Coast Guard, and their families. Founded in 2003 by the mother of two American soldiers, its hundreds of thousands of Angel volunteers assist veterans, wounded and deployed personnel and their families in a variety of unique and effective ways. Pam Hope, the Aspen office administrator, sent letters and packages of movies, cookies, candy, games magazines to a Marine stationed overseas.
Additional Projects:
Cleaning a mile of highway 82 in memory of Tom Osborn
Holiday bell-ringing for the Salvation Army